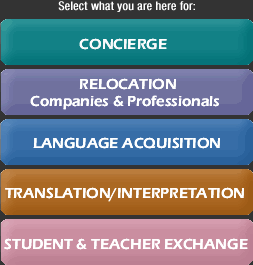 Need to translate a text? Need an interpreter? What about assistance for your executives? Wanting some help moving one of them and/or their families to another country? Or do you need a language course? Are you a teacher interested in improving your knowledge within an exchange program?

We are Praxis International. We are ready to offer all types of solutions for you and your company. We bring people together. We facilitate business. We introduce Brazil to foreign executives. We teach languages from all over the world. We translate any type of document.

We help you get the information you and your business need regarding real estate, marketing, legal advice, financial advice, and event planning. We are ready to do all this and much more.

Share your world with us.

Click on the link of your interest and find out more about our services or contact us directly.

Read the latest stories and updates about Praxis here.